You should have already created a log in and password following the instructions sent to you and available in the Help Center Article: Creating a Log In for the AMA Royalties Portal.
Visit: https://royaltiesportal.ama-assn.org and log in.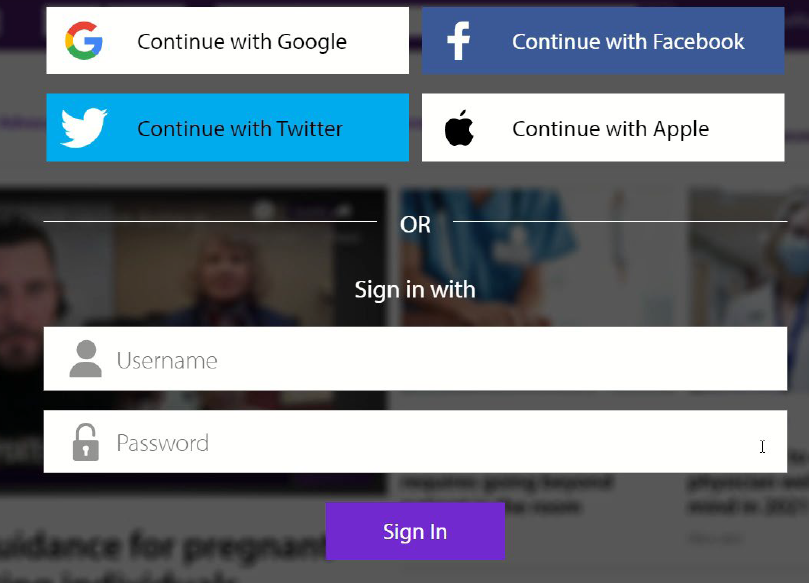 Once you log in, you can see Sections listed at the top based on what permissions you have.
Reports, Payments, Content and Administration Sections
REPORT
If you have a report that is currently due or will be due soon, you will see them in the Reports Section in the "Open" tab. Click on View Details, and you will be able to download the report template for the period that is due.

For a detailed article and video with instructions on reporting, please visit the Help Center article: Submitting a Report on the AMA Royalties Portal
You can also see a history of posted reports, in the "posted tab" of the reports section.

PAYMENTS
If you have permission to view and make payments, you will see the payment Section.
Any outstanding balances due will be listed here including applicable sales tax.

Once you click on the check box next to a line item, the payment options will appear. You can click on "Print Invoice" in order to download a PDF listing the invoice details and payment instructions for wire transfer if you are unable to pay through the royalties portal. Please note the AMA is no longer accepting paper checks for payment of CPT royalties.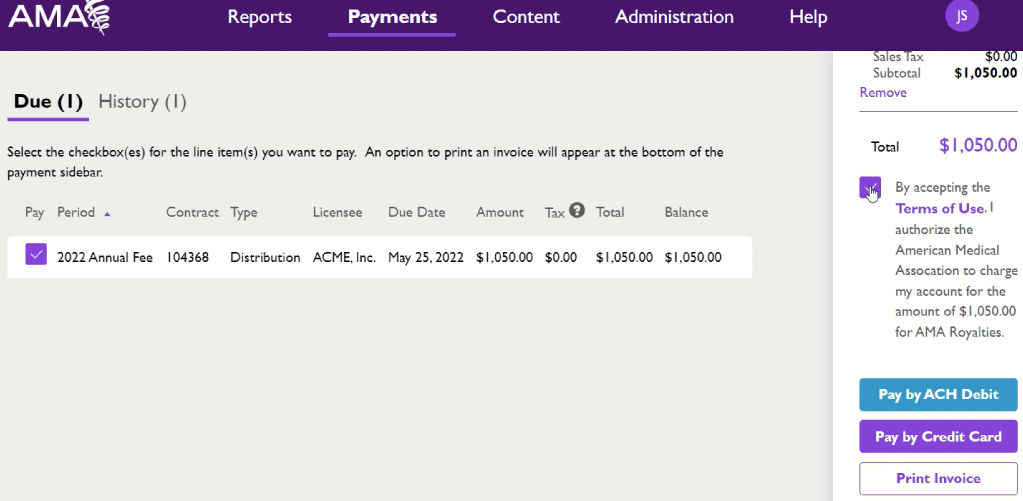 Once you click on the check box to accept terms of use, the payment buttons will activate. If you owe $23,000 or less, payments can be made by credit card. To make payment beyond that, click on the ACH button.
Once you click on Pay via Credit Card,
A new screen will load where you can enter your payment details.

You can also see a History of payments made through the portal in the History tab.
CONTENT
Once payment has been processed, if no reports or additional payments are overdue, content will become available for download by the end of business day.

It is important to note here that payments made through wire transfer outside of the portal, do not make content available for download on the same day. We recommend visiting the Royalties Portal 1-2 business days after making wire transfer in order to download your content.
Click on "Download content" and the file will download to your computer. You can only download the file one time, so please download one file at a time and make sure you are able to find the content file in your downloads folder.

If you visit the history tab, you can see a history of who in your organization has downloaded various content files. This allows you to follow up with your colleagues if you are looking for a specific content file.
Administration
If you are a contract administrator, visit the administration tab in order to manage contacts, permissions and see account activity.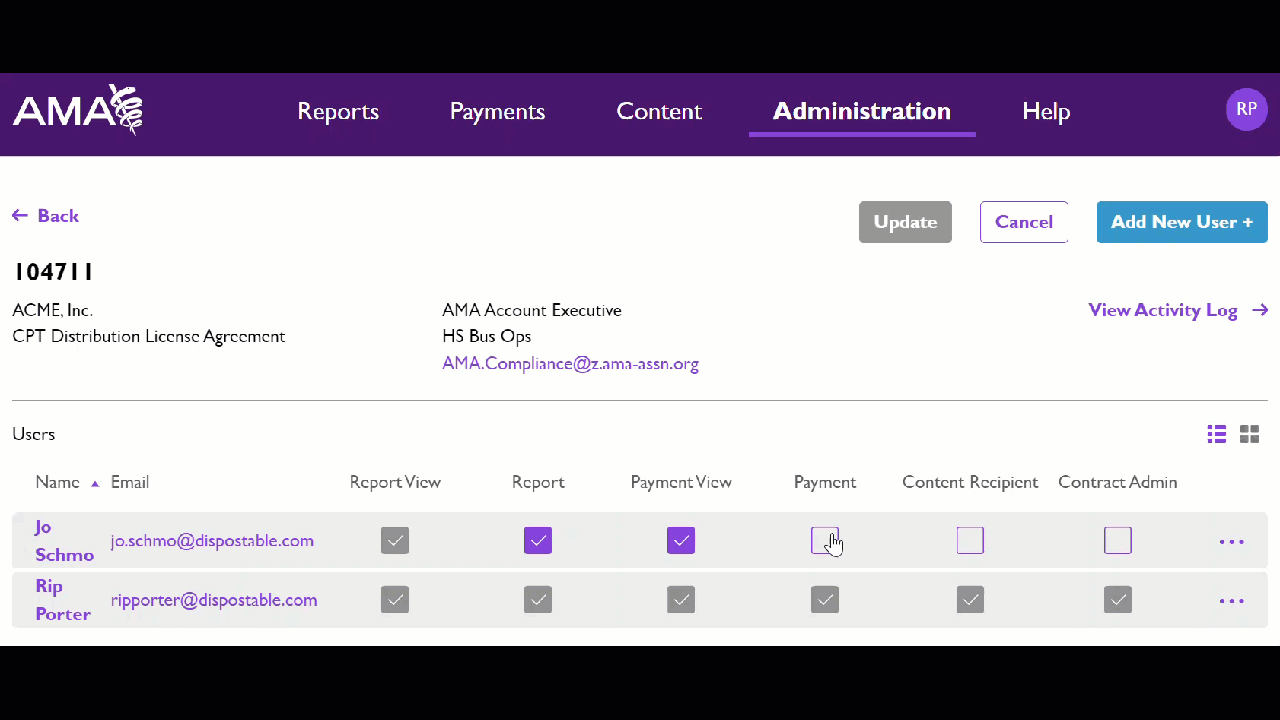 You can easily add or remove permissions for a specific user by checking or unchecking these boxes. You can delete a user by clicking on the contextual menu, three dots.
When you are done making changes, adding or deleting users, be sure to click on "Update" to save your changes.
Finally, if you have any issues or questions along the way, click on the help Section, you can find links to help center articles and the web-based Current Distribution Licensee Help Request form to reach our Operations team.

FAQs
Q: How do I set up my log in?
A: Click on "Create a Free Account"
Please use the email address(es) associated with your contract to create a login and password. If you use a different e-mail address, it will not be associated with your contract. It is case sensitive.
Q: How can I find and make payments due?
A: If you are set up with permissions to make and view payments, you will see a Payments tab available at the top of the screen. If a payment is due, click on the check box next to it, in order to activate the payment buttons.
Q: Can I pay a portion of what I owe?
A: If you have multiple payments due, you can select one or more of them by clicking on the check box next to each line item. You cannot, however, make partial payment on any line item.
Q: Can you send me an invoice?
A: Once you click on the check boxes next to one or more payment line items, you will see a button to "Print Statement."
Q: Is there a credit card payment limit?
A: If the total of all of your fees due is $23,000 or less, including applicable sales tax, you may use a credit card to pay that/those balance(s). If the total of your fees is over $23,000, payment must be made by ACH or Wire Transfer.
Q: How can I tell if a payment has already been made?
A: There is a History section in the Payments tab. You can click on that section to view a history of payments that have been successfully submitted.
Q: How to I download the data file after I pay?
A: Once the payment has been successfully submitted, the content will be shown as available for download in the Content tab, if you have permissions. If you do not have permissions, the Content tab will not be available for your view. Each content file can only be downloaded once.
Q: How can I tell if someone from organization has already downloaded the file?
A: If you have permission to download content, you will see the Content tab and within the Content section you can also view the History section to see who has downloaded content and when. If you are an Administrator, and have permissions, in the Administration tab, you will be able to view an activity log to see payments made and content downloaded in one central location.